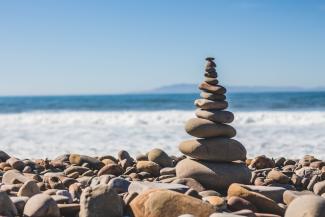 How Financially Organized are you?
Many of us have high hopes about being more financially organized – it's certainly a noble cause. Indeed, even those of us who already handle the financial management of our households could do with a little jumpstart on this topic. As it turns out, being organized in this way benefits not only family members while we are all still on this good earth together, but it also greatly benefits those around us if something were to happen to us.  
Recently I heard an interview with Kathleen Rehl, Ph.D., CFP, CeFT, and author of Moving Forward on Your Own: A Financial Guidebook for Widows. She says that for grieving surviving spouses, that grief can be compounded exponentially when they have been left in the dark about administrative matters. And Kathleen – a widow herself – has been through it personally.
In short, getting organized is an invaluable gift that you can give your partner, spouse, children, or other family members. Here are some gift-giving ideas to get you started.
Important papers: Create one file folder, binder, or envelope for these. These should include copies of drivers' licenses, birth & marriage certificates, and Social Security cards, as well as copies of recent account statements and life insurance policies. Make it easy for your partner to open a file drawer and pull out a file with all the important pieces of your lives together.
 
Bank and other investment accounts: Inventory these. Make a list, either on paper or electronically. Know what accounts you each have, at which financial institutions, who owns them, and approximately how much is in them. Share this information with your partner. The number of people who say to me, "Well, I know he has an IRA, but I don't know where it's located .  . ." is mind-boggling. This problem has been acerbated by the fact that more and more account statements don't even arrive via paper mail any more – they live online, making it harder for your partner to be familiar with accounts, or to remember that they even exist. Print a set of statements periodically, or print a set after every year-end, and keep them all together as a reference.  And speaking of online . . .
 
Password management: It's 2019 – start using a password manager like Dashlane or LastPass.  With one master password, you or your partner can have easy access to all accounts. Without it, it's pretty much a guarantee that your partner will not be able to access something or other (think Amazon, Pay Pal, Netflix, and lots and lots of other services that only exist online).
 
IRAs and other retirement plans: Make sure the beneficiaries on these accounts are updated and correct. There are court cases every year where grieving spouses try to challenge a 20-year-old beneficiary designation that names a recently-deceased person's former spouse as beneficiary of a large retirement plan account. Don't put your spouse through this.
 
Last wishes: Most couples don't come anywhere close to discussing this. Any emergency room doctor will tell you that, in almost all cases, when a family is facing a crisis with a loved one and is asked, "Do you know what Linda's wishes are?" the answer is, "We don't know – we never talked about it." The Conversation Project is a great organization with many tools to jump-start these talks – they call it "estate planning for the heart." Have this conversation with your parents, if you haven't already.
 
Life insurance: Inventory each of your life insurance policies – filing a claim is one of the first things to be done, in the unfortunate event of the death of one of you. Make sure you each know who has what coverage, with a recent statement or policy docs filed someplace handy. Again, make sure that the beneficiaries are who you want them to be, and update if needed. Also, if you've been meaning to look into buying life insurance, but haven't, get on the stick and do it.
 
Estate planning, part I: Do you already have a will, and powers of attorney (called "proxies" in some states) for healthcare and financial matters? Super. Where are they? And, more importantly, does your spouse know where the originals are? Do you know where these documents are for your parents, or other elderly family members? Ask. I have a friend who recently inherited money from an aunt, and she and other heirs all ended up in court because no one could find an original copy of the will – they all only had copies. In the end, having copies was ok, but getting the court to validate them was an administrative hassle (and expense). Also I might note here that of course some people want the contents of their will and other documents to remain private.  This is fine, but these documents still need to be easily accessible to a spouse, or perhaps to adult children, in the event something happens. (I once had a client who kept his estate planning documents in a locked safe in the basement – to which only he had the combination. I did point out that his health care proxy – containing his well-thought-out end-of-life wishes – was in there as well, leaving his wife and doctors without clear instructions if he were ever to be hospitalized.)
 
Estate planning, part II: Don't have a will, or powers of attorney for healthcare and financial matters? Yes, I'm talking to you. Get some, especially if you are partnered but not legally married, have minor children, or if you or your partner have former spouses and/or children from prior relationships. And, if you have already done this and are in possession of drafts of documents which have not yet been executed, pledge to get them signed, or follow up with your attorney about closing the loop. Drafted-but-unexecuted documents are far more common than you would think, and are the bane of practically every estate planning attorney's existence.
 
Safe deposit box key: How many of you know where this is, for your own household, or perhaps for your parents' safe deposit box? Find your key. Put it in a place where you both know where it is. Safe deposit boxes are not frequently accessed, making them candidates for family members to easily forget about them or lose track of the key.
 
Funeral arrangements: Do you have something specific in mind for your funeral or burial? Most people have at least a few preferences, or at least a list of things that they don't want. Be sure to communicate this to your spouse, or better yet, write it down.
 
Abandoned property: For a task that is slightly more fun, check out your state's unclaimed property division (the one for Massachusetts property can be found here.) About one in ten people have unclaimed property being held by the state – searching for it is usually fast using the state's online database, and claiming your property is free.
If you are looking for a secure online tool that rounds up everything listed above, check out Everplans. For $75 per year, you can organize, archive, and selectively share documents and your thoughts related to estate planning, accounts, passwords, bills, insurance, income, expenses, assets, and even pet care. The site includes download-able checklists, guides, and state-specific information. And, for those of us in the "sandwich generation," Everplans is a great tool for us to help parents set up, so that when the time comes, we know where everything is.
Your spouse, family, or close friends will be the ones helping to pick up the pieces in the event of your illness, an accident, or your death. The cost of not being organized is huge – perhaps not for you, but for them. Consider leaving them a gift for which your family will surely be thankful – most people who have been through it would say that there's not much that's a better expression of love.