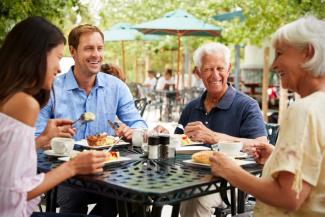 It's Time to Check Your Medicare Coverage
(Most participants don't but here's why you should review your coverage each year)
It's Open Enrollment season for Medicare.  Those Americans on Medicare have the opportunity each year, from October 15 to December 7th, to review their Medicare coverage and make changes to improve their coverage and/or lower their costs.
                                            If you're not currently on Medicare, you will be,
so practice now on your parents!
Traditional Medicare - Those on Medicare must first choose between taking Part A and Part B from Medicare and then purchase an insurance policy to fill in the "gaps" not covered by A and B.  Part A is hospital insurance while Part B covers doctors, nurses, etc.  And Part D is the insurance policy which is also purchased to cover prescriptions.
This arrangement is sometimes referred to as "Traditional" Medicare.  During this open enrollment, participants can change their insurance carriers and it's really simple.  Once you know what company you would like to change your coverage to, you just call them.  They will arrange to notify your current insurance company and your new coverage with them will begin on January 1st.
For example, one of our clients was recently notified that their Part D prescription coverage would be increasing from $33 per month to $35 per month as of January 1st .  Using a local resource we referred her to, she found new replacement Part D coverage for $14 per month.
Medicare Advantage – Part C – As an alternative to Traditional Medicare, participants can use a plan from a Health Maintenance Organization (HMO) or a Preferred Provider Network (PPO) that replaces Part A and Part B (although Part B premiums are still paid) with a complete package provided by an HMO or PPO.  Monthly premiums for this coverage vary based on the provider and the coverage limits.
Open enrollment is the time to review your coverage.  Do you wish to stay with the Traditional or Advantage strategy?  Should you "shop" around for a new Medigap or Supplement insurance if you have the traditional plan?  How about shopping for a new Part D prescription plan?
You can also, during open enrollment, switch from a traditional plan to an advantage plan or vice versa.
Medicare has many resources to help you with these decisions.  Visit www.medicare.gov for more information and tools to help you maximize the value of your Medicare plans.
Not on Medicare yet?  No worries, practice on your parents or other family members who may be on Medicare.  Help them review their coverage and become more familiar yourself.